This is sort of my own recipe, but I do confess That it is really a mix of many recipes and based on what I had in the cabinet.
If you check in with me on the regular then you know that I don't really measure anything out, so this is all estimates.
What you need:
1 block extra firm tofu drained. I like to take mine out in the morning, layer paper towels on a plate and put more on top and leave it in the fridge so the liquid all comes out. Cut tofu into 1 inch blocks.
Honey
Low sodium soy sauce
Red pepper flakes
Sesame seeds
2 tablespoons sesame seed oil
Any mix of stir fry veggies that you like. Trader Joes makes a nice prepackaged mix.
Soba, or other stir fry friendly pasta of choice. I used wheat spaghetti because it was all I had. Soba noodles would have been better.
In a large bowl mix 1/2 cup soy sauce and a few sprinkles of pepper flakes, honey to taste, the sesame seed oil and sesame seeds.You want enough mixture to coat tofu and have extra to put in veggies. I kept tasting it until it was good.
Add tofu to mixture and mix to coat
Put bowl in fridge to marinate for about 30 minutes
Heat oven to 375
Place tofu on sprayed pan and bake for 15 minutes, turn tofu and bake for another 15,or until Golden
While tofu is cooking, boil pasta..but only cook it 3/4 of the way
Stir fry veggies in a little bit of sesame oil
Mix in noodles and the remainder of the marinade and cook for 2more minutes.
Mix everything together and enjoy.
Here what it looked like: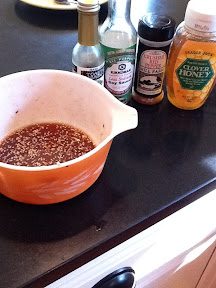 - Posted using BlogPress from my
Another one of my goals is to improve my blogging. Now that I have an ipad, picture taking for the blog is much easier. This is my practice post.
P.s. If you really hate tofu, you could make the same marinade for chicken. Tofu is something I have learned to love and this recipe makes it sort of crunchy, which is how I like it best.
iPadp